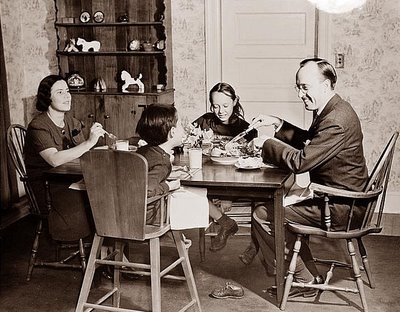 With the numerous activities in Boltonshire, it's a rare event all of us get to gather around the table and have a meal together. Also with the numerous residents in Boltonshire, it's a rare event all of us get to FIT around the table and have a meal together.
We used to have the extension on the table, but it just took up too much dang room in the kitchen.
Plus it became one of the many horizontal surfaces that collected unopened mail, graded homework and coupon circulars.

Dinner time with the Boltons is usually in stages. When school is in session, we usually have dinner ready between five and five-thirty. This is when the kids eat. KC might be taking care of D and I am getting ready for the next stage of the evening, bath time. MaddSkillz would get home after this usually and eat his share. KC will probably eat after the babies are down and I eat after I log in to work at night.
This is pretty much everyday.
We actually all squeezed down for dinner about two weeks ago, and none of us could remember the last time a similar event happened at home.
Having five children five and under and a teenager with a mutant power of ordering the most expensive stuff on a menu. We
aren't allowed in
don't eat in a lot of restaurants. Some of it being monetary and the other being a logistical nightmare. While we can usually have the kids share or the younger ones eat some of our food (
Well actually just mine, KC doesn't like to share her food
), it turns into a time where I'm making sure everyone is eating while my food quickly becomes room temperature.
Our most recent outing took place one Sunday after church. Those meals are not really planned before church, because before church we're wondering why we can never find a pair of shoes that match for the kids.
It was KC, myself, Ladybug, Disco, Celi, The Emsters and D. MaddSkillz was probably with his father. I think the meal was good, because I don't remember eating most of it, well not right away anyways. Mainly because of going to the bathroom.
Oh it wasn't me that had a rumble in the Bronx, it was my potty trained/ing children.
We get seating and Ladybug has to go. So I take her while KC gets the kids organized and seated. I get back and Disco decides he wants to go too. Up until this point
he never showed any interest in going to the bathroom
. While he was wearing a diaper, and really could wait (plus I was about to order), I took him to the restroom at his request.
Well doesn't have to go, so I get him re-dressed and bring him back to the table. It's at this time when Celi (wanting to be like her older siblings) decides it's time for her to start her potty training. Again, I'm thinking, she doesn't have to go and is wearing a diaper PLUS I want to order!!
Well
she
doesn't end up going, and I get her re-dressed to go back to the table.
There is no way, I'm taking The Emsters to the restroom no matter how much she protests.
So when we get the food, I believe this is the time when Disco says he really has to go.
Seriously!!!

So we go, and I forget if he actually went or not because it was during this time Ladybug comes running into the restroom to call out for me that Mommy needs me.
Seriously?!?!?

The Emsters had pooped and she was feeding D so she had to be changed.
This is why I promote drive-thrus.

I wanted to update my Facebook status with something like, "
Tried going out to eat, but have spent more time in the restroom than at the table.
"
I opted not to for fear no one would take it in the same context I would.
Well,
Outback Steakhouse
[
Facebook
/
Twitter
] is promoting a "Dinner with Dad Experience" and is using Juggling Eric to promote the event. Their ultimate goal is to get dad's to share more meals with their children more often. Outback is being generous to offer one of my readers a
$45.00 Outback Steakhouse Gift Certificate.
All I require is a comment below saying how you would use the $45 gift certificate.
It can't be used for alcohol, tax or gratuity.

I will run this giveaway until the end of the week. Friday June 24th at 11:59PM.
So please leave your comment below and I hope all of you had a great Father's Day.
"I wrote this post while participating in the "Dinner with Dad Experience" with Outback Steakhouse and received a a $45.00 gift certificate to give away, and one to for myself to thank me for taking the time to participate."