My wife has lost it. Yes, yes she has. I'm not afraid to put it out there. It's the God's honest truth. Having five (six now with D) kids has finally made her mind snap.
She has gone Royal Wedding Crazy.
Yesterday, she told me there is going to be a media blackout in Boltonshire for Friday. She's going to set the DVR to record all the festivities for the event. She's erased the kids' favorite shows and my classic episodes of LOST, and set to record "Say Yes To the Princess Dress" and all coverage from WE, TLC, E!, Style, Bravo and BBC. Also she's making sure the Lifetime movie about the Royal Wedding which is being made
during
the Royal Wedding to be shown directly
after
the Royal Wedding is going to be recorded as well.
The blackout applies to the internet as well. She doesn't want to be spoiled by anything. She wants to witness it first hand, albeit recorded on DVR to watch after the kids go to sleep on Friday night.
She's setting the DVR because there's no way she's waking up for a 4AM wedding. Heck, she wouldn't even wake up for OUR wedding. Which is why it was performed after midnight.
At first I thought it was a healthy obsession because apparently it's every girl's dream to marry a prince with thinning hair. So I didn't say much when this came in the mail.
Royal Tea Pot
She explained it's for all of us since I sometimes make tea when we're out of Dr Pepper. Okay?!? I'll let her have it. But then I came home from my trip to Houston to see this in the kitchen.
Royal Wedding Fridge
I thought this was a little obscure. She defended herself saying I never fixed the ice dispenser and she needed to get a new one. There wasn't much to say, even though I still get creeped out when I go to the fridge to grab a DP and William is there looking at me with those squinty eyes, those giant teeth, and those thinning hairs.
But I support my wife in all of her little crazy idiosyncrasies.
At T Ball practice I was thinking about all of this and was going to tell KC she just needed to stop before she got anything else. Alas, when I got home it was too late. She had already ordered this...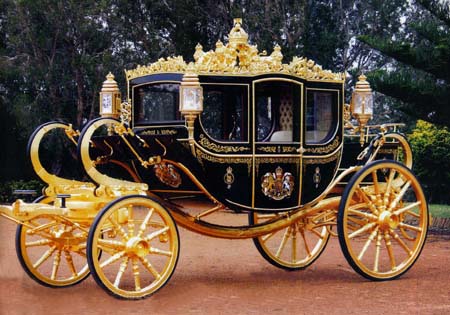 A Royal Coach
I was about to explode. I couldn't take it anymore. This obsession has got to stop!! But then I held it in and let her have her day. Even if it was living vicariously through someone else on the other side of the world. If I said anything, she would just throw the fact she's squeezed five babies out for me and I owe her at least this much in my face.
Fine.
I though that was it. Honestly. How much wedding paraphernalia can there be out there? Well my question was answered when this arrived this morning...
Seriously?!? A Royal Wedding Meth Lab?!?
Now I am royally concerned.
------------------------------------------------------------------------------------------
DON'T FORGET ABOUT MY...